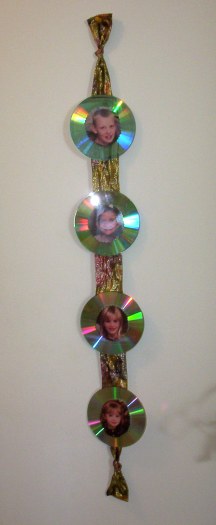 This CD picture hanger is a fun and easy project that lets you showcase the photos of the people you love! Simply loop a piece of wire ribbon, glue your favorite photos onto some recycled CD's, and hot glue the CD's to the ribbon. Voila! A charming display for all to see.
Hanging Photo CD Display
Wire ribbon
Craft scissors
Recycled CD's
Hot glue gun
Photos
1. Take a piece of wire ribbon and loop it an tie a knot in each end of ribbon.
2. Use some craft scissors to cut out photos into circles big enough to overlap center hole of CD.
3. Glue the photo's to the center of each CD.
4. Then hot glue each CD to the ribbon.
5. Allowing an even space between each CD's.