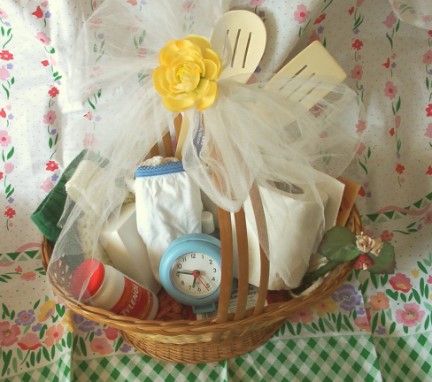 Here's a quick Graduation gift idea that will not only be a practical but funny too!!
Take a pretty basket and fill it with things like grocery coupons, toilet paper, aspirin, dish towels, underwear, alarm clock, Twinkies, a pen, orthopedic insoles and nuts. Cover it in clear wrapping and attach a nice big bow to decorate it.
Then attach this poem especially written from the heart of a MOM.
Grocery Coupons       (Please eat something other than Kraft Dinner!)
Roll of Toilet Paper    (Do you know how to change the roll??)
Aspirin                    (So you can make that morning class!)
Dish Towels             (Yup, they are all your now!)
Underwear              (Make your mom happy wear clean underwear!)
Alarm Clock             (Because I won't be there to shake you!)
Twinkie                  (So you don't get food poisoning. These will keep forever!)
Ink                        (Do they still use pens at all??)
Orthopedic Insoles    (Yippy I got my car back!)
Nuts                      (These represent me, you left too late I'm already cracked!)