Materials:
One gardening glove new
Poly-fill
Moss
Wire
One flowery yo-yo circle 2 inches in diameter
One yellow yo-yo circle 1½ inch in diameter
One wooden circle
Half small straw hat

Two buttons
Green ribbon
Raffia
Small flowers
Glue gun and glue
Needle and thread (white)
Green, white and black acrylic paint
1. Start by stuffing the glove with poly-fill.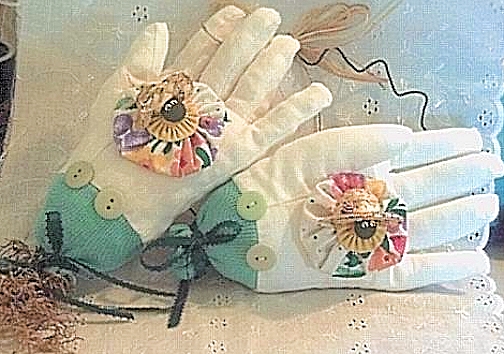 2. Then sew closed with needle and thread.
3. Take flowery fabric yo-yo and glue smaller yellow yo-yo in center.
4. Take wooden circle and paint green and them add on eyes with black and white paint. Set your pea head aside to dry.
5. When dry glue to center of yellow yo-yo.
6. Take the half straw hat and glue just over top of wooden green pea head.
7. You can add flowers to top of straw hat for decoration.
8. Glue entire Yo-yo Pea to palm of gardener glove.
9. Sew buttons on to cuff of glove.
10. Take a bit of moss and glue in cuff of glove and tie with green ribbon.
11. Take some wire and twist around a pencil to get a loopy look. Then glue onto back of glove.
12. Tie a piece of raffia to top of wire hanger.
13. Then you can add this little poem and it makes a cute craft for any gardener friends you may have.