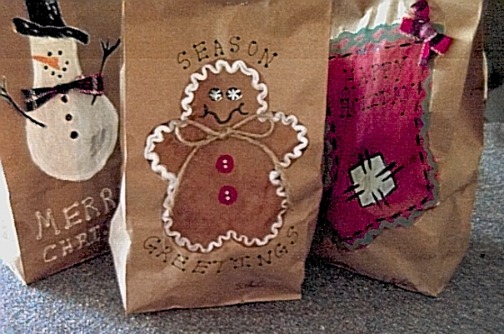 This Christmas I had a request for dozens of cookies for gifts and came up with this personal and inexpensive way to present them. Once I got started they were really lots of fun to make and you can be as creative as you like with your materials. Here's how I did mine!
Materials:
Brown Paper Bag (lunch bags)
Acrylic paints
Permanent markers or gel pens
Scraps of material, buttons, colored paper
Started by opening and checking that each bag was in good shape. Sometimes they can be formed funny or stuck together on the inside.
Then laying them flat draw out your designs lightly with a 2hb pencil. Coloring books have great ideas if you can't think of one or even tracing cookie cutter shapes.
Paint in the main body of color and let dry.
Then painted the outlines and details on.
When that is dry, use gel pens in gold and silver on outside of design to give it a shimmer look.
Using the permanent marker write a greeting on the bag.
Adding on scarps of material, buttons or paper gives it a country kind of look.
Line your bags with a thin plastic gift bag, I found some at the dollar store in packages of 30 with cute holiday designs. This stops the cookies from leaving oily looking stains on the brown paper bag
Bake a dozen cookies to fill bag and staple closed with a gift tag at the back.