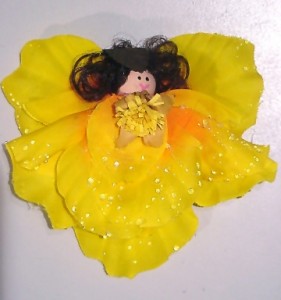 Materials:
Plastic Rose Blossom
Round woodenhead
Curl crafting hair
Hot glue gun and glue
Piece of ribbon for hanger
Small dried flower
Start by taking apart the flower from the center and setting aside one set of petals for wings.
Put the rest of the petals back together upside down through the center plastic pestle piece and glue.
Then glue head to base of blossom allowing the petals to flow and form the fairies dress.
Hot glue a bit of head to top of woodenhead. If your head has no facial features they can be added with permanent marker.
Fold the rose petal that was set aside into half so each wing is formed and looks doubled.
Glue wings to the back of Fairy and attach a ribbon as a hanger.