These adorable little fairies are a fun and creative craft project that can be made with a few simple materials. Here's what you'll need: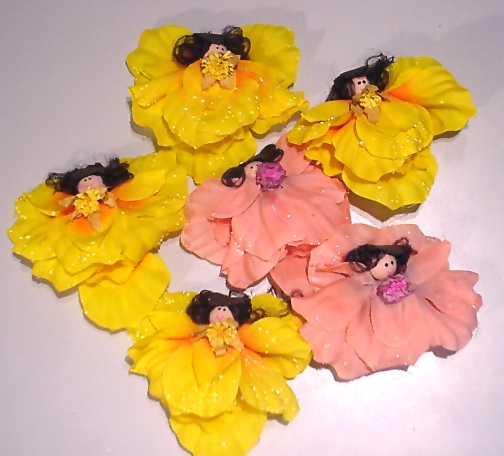 A plastic rose blossom
A round wooden head
Curly crafting hair
A hot glue gun and glue
A piece of ribbon for a hanger
A small dried flower
Instructions:
Carefully take apart the rose blossom and set aside one set of petals for the fairy's wings.
Reassemble the remaining petals, placing them upside down through the center plastic pestle piece and securing them with glue.
Glue the wooden head to the base of the blossom, allowing the petals to flow and form the fairy's dress.
Glue a bit of hair to the top of the wooden head to create the fairy's hairstyle. If your wooden head doesn't have any facial features, you can add them with a permanent marker.
Fold the rose petal that was set aside in half to form the fairy's wings, and glue them to the back of the fairy.
Attach a piece of ribbon as a hanger for the fairy.
Your blossom fairy is now ready to adorn your home and bring a touch of magic to your day.