Materials:
Dog biscuits
Clear wrapping
Ribbon Printer
Paper
This is a cute one for the canine family members. Just take some Dog biscuits and wrap them in some nice clear wrap and tie with a bit of ribbon. Then attach this poem. Click to print graphic
"On the first day of Christmas my puppy gave to me
The Santa topper from the Christmas tree
Two leaking bubble lights
Three punctured ornaments
Four broken window candles
Five chewed-up stockings
Six yards of soggy ribbon
Seven scraps of wrapping paper
Eight tiny reindeer fragments
My wreath in nine pieces
Ten Christmas cards I should a' mailed
Eleven unwrapped presents
On the twelfth day of Christmas my puppy gave to me,
A dozen puppy kisses And I forgot all about the other eleven days!!!"
(Unknown Author)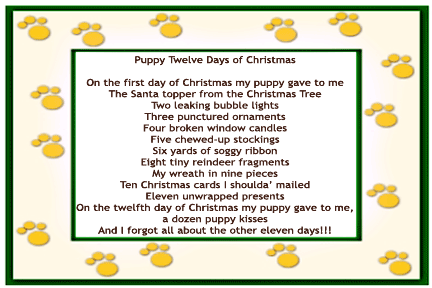 Dog Biscuit Recipe:
Honey and Peanut-Butter Dog Biscuits
3/4-cup flour
1 egg
1 tbsp. honey
1 tsp. all natural peanut-butter
1/4 cup vegetable shortening
1 tsp. baking soda
1/4 tsp. salt
1/4 cup rolled oats
1/2 tsp. pure vanilla extract
Heat honey and peanut butter together until runny that will take about 20 seconds in the microwave. Mix all ingredients together and drop by ½ tsp. onto cookie sheet. Bake them at 350 F for 8 to 10 min. If you want larger or smaller biscuits, adjust the size and cooking time.