Materials:
Large clean jar
Pastel paper
Printer
Card stock for tag
Paper cutter or scissors
Decorate as desired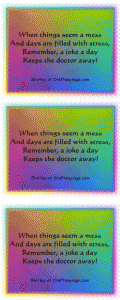 Trying to find an idea for that hard to craft for person, for father's day, for that clown of a friend. Maybe this is the right gift for them!!! My children made one for daddy and he pulls one out at work whenever he's having on of those days!
Print jokes (can be found at Craft Sayings or print some samples provided for you by clicking here) on pastel paper then cut, fold and put in a jar. Decorate jar as desired and add poem this poem.
"When things seem a mess
And days are filled with stress.
Remember a joke a day
Keeps the doctor away!"
Blessing Jar
Another great idea along the same lines is a blessing jar. Just fill the jar with inspirational Bible verses and decorate as desired. Put on a little tag that read "Blessing Jar to keep your spirit soaring all year through"