Popsicle sticks (cut in half with an Exacto knife)
Sandpaper
Green or red felt
Flesh-tone acrylic paint
Light-colored paper
Scrap wool
Permanent marker
Scalloped scissors
Hot glue and glue gun
Pin backings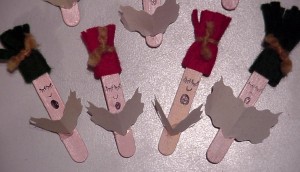 Start by using your Exacto knife to cut a Popsicle stick in half. Then, lightly sand the cut end smooth and paint both sides with flesh-tone paint. Set aside to dry for at least 1 hour.
Cut 1-inch squares from the felt. Take the squares and cut halfway down in strips to create a puff of hat. Tie each piece in the middle with a scrap of wool to shape like a hat.
Using scalloped scissors, cut small song sheets for each Caroler out of 20lb or higher paper and fold in half.
Glue the felt hat to the top of each painted Popsicle stick and tie a few strands of wool around to make a scarf. Carefully draw in faces using a circle for their open mouth on each Caroler.
Take a dab of hot glue and place it on the lower middle of the stick, then set the paper songbook in place.
Finish off the Caroler by gluing a pin backing to the back. Note: White tacky glue is better for attaching backings.
These make a cute decoration to pin to any winter coat!